New Zealand turns its focus to the victims of a massacre that left 49 people dead
With the suspect in a mass shooting at two mosques in New Zealand in custody, authorities are turning their focus to the victims and the families of the 49 people who lost their lives.
Brenton Harris Tarrant, 28, has been charged with one count of murder, according to a court filing. He's accused of a shooting rampage Friday at two mosques in Christchurch that injured 48 people in addition to the dozens killed.
New Zealand Police Commissioner Mike Bush said additional charges are forthcoming.
"Our other key priority is making sure that those people so horribly affected by these events get the support and welfare that they need," the New Zealand Police said in a statement.
"There are many, many victims of this tragic event and we are giving every possible support to them."
In a news conference on Saturday, Prime Minister Jacinda Ardern stressed that families that lost a loved one — particularly one they were dependent on — are entitled to compensation for several years.
The names of the victims have been withheld by the court, but makeshift memorials have sprung up with flowers and notes honoring those affected and sending messages of hope and love.
"They may take our innocence but we will show the world the meaning of love and compassion," said one note taped to flowers left on a road divider.
10 to 15 minutes of horror and violence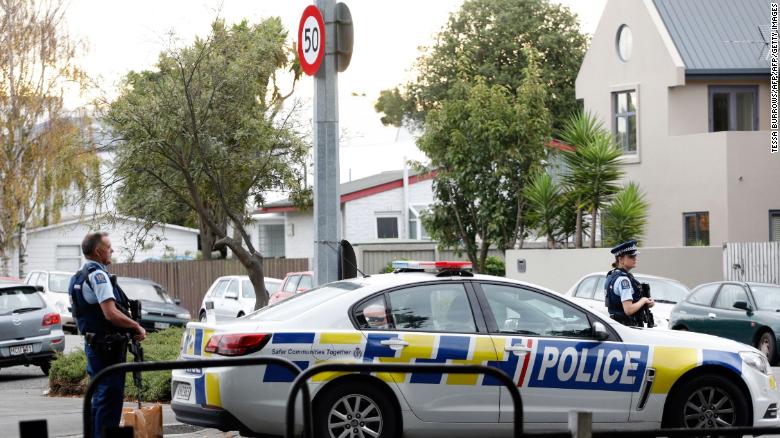 Police officers secure the area in front of the Masjid al Noor mosque after a shooting in Christchurch on Friday.
One worshiper, Mohan Ibn Ibrahim, said he was inside one of the mosques when the shooting began. He said he heard the gunman "continuously shooting for 10 to 15 minutes."
"It's a big mosque and there were more than 200 people inside. The gunmen came from the back side. Gunshots went on for a long time. We had to jump the wall to escape. I saw lots of broken glass and bricks on the backside of the mosque," he said.
"I came to the street, I saw one person got shot on his chest," he said, adding that the ambulance and police then arrived on the scene. He said that he had a friend in another mosque in the area who told him a gunman had opened fire there as well and five people were dead.
"I could not contact two of my friends who are in the mosque as well," he said.
Police said they were aware of a video shared online and broadcast live during the attack, which apparently showed a gunman walking into a mosque and opening fire. "We would strongly urge that the (video) link not be shared. We are working to have any footage removed," New Zealand police said.
CNN has not been able to independently confirm any information about the attackers or the alleged video.
Authorities declined to discuss potential motives for the attack. But the 87-page manifesto posted on social media just before the shooting began was filled with anti-immigrant, anti-Muslim screeds and explanations for an attack. It was not signed.
48 people were injured in the violence. 39 remain in the hospital, 11 of whom are in the ICU, Ardern said.
Suspect is silent in court
Tarrant appeared before a district judge and was silent throughout the appearance. The courtroom was closed to the public because of the heightened security risk, New Zealand police said.
He was remanded in custody to reappear in court April 5.
He is one of three people arrested in connection with the shooting; and while the other two remain in custody, their role remains unclear.
A fourth person who had been taken into custody was later determined to be an armed bystander who wanted to help police.
Tarrant is an Australian citizen who was living in the southern city of Dunedin at the time of the attack, Prime Minister Ardern said. Dunedin is about 225 miles from Christchurch.
Ardern said the suspect traveled around the world and was in New Zealand sporadically. He had no criminal history in New Zealand or Australia and had not drawn the attention of the intelligence community for extremist views.
Police said they were not searching for any other suspects but stressed the investigation remained fluid. None of those arrested in the attacks had been on any security watch lists prior to the attack.
PM calls for gun laws to change
The shooter, who had a gun license acquired in November 2017, carried out the killings with two semi-automatic weapons, two shotguns and a lever-action firearm, Ardern said.
"While work is being done as to the chain of events that lead to both the holding of this gun license and the possession of these weapons, I can tell you one thing right now — our gun laws will change," she told reporters.
"It's the time for change," said Ardern, who had earlier called Friday one of her country's "darkest days" and described the suspects as holding "extremist views" that have no place in New Zealand or the world.
CNN's Ray Sanchez, Helen Regan and Sandi Sidhu contributed to this report.